Nathalie Vergères
The core of my work is meditation, harmony and playfulness. Using meditation as the main source of inspiration allows me to develop an intuitive sense of harmony in whatever medium I use. Being fully present and focussed, letting my unconscious express itself through shapes and colours reveals something different and deeper than a conscious planning process. Images flow intuitively, creative blocks cease to exist and the unconscious is put in charge of the creation. I am able to play with whatever is in front of me, to create harmony in a joyful state of mind.
If we create only by order we will have forgotten that images are more than the consumption of products and that their true value is in the emotional impact they have on people's hearts.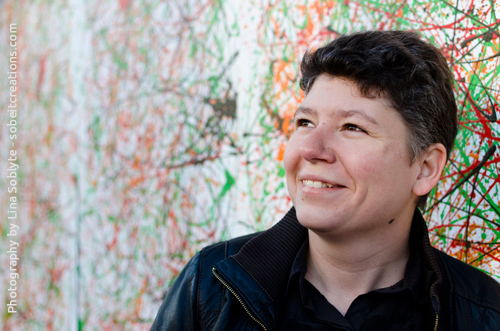 Dessiner, peindre, expérimenter pour le plaisir de créer des images qui parfois, comme des nuages, peuvent faire sens uniquement dans l'imaginaire d'un esprit curieux qui les contemple.
Utiliser la méditation comme source principale d'inspiration me permet de développer un sens intuitif d'harmonie quel que soit le support que j'utilise. Étant pleinement présente et concentrée, je laisse mon inconscient s'exprimer à travers des formes et des couleurs qui révèlent quelque chose de différent et de plus profond qu'un processus de planification conscient. Les images coulent intuitivement, l'inconscient est chargé de la création.
Retrouver l'envie d'expérimenter librement et oser partager l'imparfait, le personnel, le bizarre. A force de créer sur commande on en oublie que l'image est bien plus qu'un produit de consommation et que sa vraie valeur est dans l'impact émotionel qu'elle a sur le coeur des gens.